Ivie Ehanmo is an Energy Lawyer/Power Sector Legal and Regulatory Specialist. She is a qualified transaction lawyer/regulatory and due diligence expert in the energy sector with over 10 years' experience, particularly in the gas and power sector(s) where she has been involved in a wide array of complex transactions for multiple clients across the value chain.  She possesses an extensive knowledge of Oil and Gas/Power Sector Industry, Transaction, Contractual and Regulatory documents and processes and has provided transaction advisory services to a wide array of clients from conception, structure development, implementation and financing to post completion formalities of energy projects. Ivie has advised clients on legal, regulatory and commercial strategies for gas commercialization and sale to off-takers.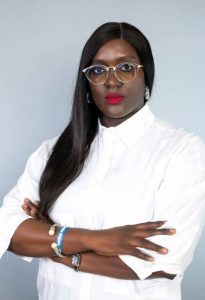 Ivie also has vast experience in conducting Legal and Operational Due Diligence Services, Corporate Restructuring/Business Process Re-engineering, Regulatory Strengthening, Regulatory Compliance Audit and Monitoring Services, Rate Case Submissions and Energy Billing Audit Services to Operators within the African Energy space. She also engages in extensive Regulatory Liaison with industry regulators and other key stakeholders given her network of contacts in the industry. Ivie provides Dispute Resolution Services in the energy industry, General Board Advisory Services on local and international Corporate Governance best practice standards to operators within the energy sector.
Ivie is an adept researcher and has a passion for the energy sector, particularly relating to closing the energy access gap in Sub-Saharan Africa. To this end, she provides research consultancy services to global, regional and local institutions such as The Energy for Growth Hub, an international trade and development agency that primarily connects the latest research directly with policymaker demand to fuel prosperity for everyone. Given her in-depth knowledge of the energy sector from a legal, regulatory and commercial perspective, she is also a Legal and Regulatory Consultant for Energy Market and Regulatory Consultants (EMRC) (a member of the MRC Group), a leading specialist consultancy firm focused on energy markets, regulation, transactions and commercial issues across the globe and working for power and utility companies, regulators, traders, power market operators and policy makers in electricity and gas around the world. 
Ivie is a Transaction Advisor (Legal, Regulatory and Governance Expert) on the Nigeria Power Sector Program, a Power Africa Initiative by the U.S Agency for International Development (USAID). Working with a team of global experts on the World Bank Scaling Up Power Transmission in Africa (SUPTA) Project, Ivie provided advisory support on the legal and regulatory framework for independent power transmission. She has also worked on several U.S. Trade and Development Agency (USTDA) funded energy and infrastructure projects across Africa.
Ivie also provides Regulatory and Compliance expertise to the United Kingdom Nigeria Infrastructure Advisory Facility (UKNiAF) where she is involved in undertaking a detailed assessment of market contracting in the electricity sector and proffering recommendations for improvements to the existing and future electricity trading and contract arrangements in the Nigerian electricity supply industry.
She was appointed as a Legal Expert on Millennium Challenge Corporation (USA) projects and she supported the 'Regulatory Strengthening and Tariff Development Project' for the Sierra Leone Electricity and Water Regulatory Commission. She also provided legal and regulatory support to UNOPS (United Nations Office for Project Services) in the drafting of the Sierra Leone Electricity and Water Regulatory Commission's draft Mini Grid Regulation mirrored against the backdrop of the NERC Mini Grid Regulation in Nigeria.
Ivie is the Group Chair of the Policy and Advocacy Working Group of the Renewable Energy Association of Nigeria and a Mentor for the African Women in Energy Development Initiative (AWEDI) where she mentors young female energy professionals, considering the key role played by women in attaining a sustainable energy future in line with the SDG 7 and other SDG's. She is also a member of the Developer Enablers Network (DEN) of InaTide, a selective network of experienced energy sector and finance professionals handpicked to support the growth and investment preparation of entrepreneurs and projects in the InaTide ecosystem.
She has and continues to advise potential investors seeking to invest in on-grid, off-grid and renewable energy projects across Africa on the legal, regulatory and commercial framework governing electricity projects and energy projects in general. She is a subject matter expert on Power Purchase Agreements and other electricity sector related contracts and associated contractual arrangements.
Ivie is a member of the Chartered Institute of Arbitrators and has been involved in resolving complex disputes amongst key players and stakeholders in the energy industry. Ivie also has vast experience in Commercial Law Transactions, Due Diligence and Transaction Advisory, Mergers and Acquisitions, Project Finance and PPP Transactions. She is a regular contributor in local and international publications and conferences in the energy space. Ivie has authored several articles on 'Energy Law' and is well versed with the workings of the industry.
Ivie is a Partner within the Energy and Infrastructure Projects Unit at George Etomi & Partners.
Ivie holds an LLB (Hons.) Law from the University of Hertfordshire, UK and an LLM (Energy Law with Distinction) from the Centre for Energy, Petroleum, Mineral Law and Policy (CEPMLP), University of Dundee, UK. In addition, she obtained a Certificate of Distinction from The World Bank course programme- 'Unlocking Investment and Finance in Emerging Markets and Developing Economies' and a Certificate of Excellence from Florence School of Regulation, Italy/Universidad Pontificia Comillas, Spain for the course- 'Regulation of the Power Sector'. She was called to the Nigerian Bar in 2007. Ivie is a Doctoral Researcher at the CEPMLP, University of Dundee. Her PhD (Electricity Law and Regulation) focuses on exploring Legal and Regulatory mechanisms to scale up investments in Power Markets across Sub-Saharan Africa.
Outside work, Ivie enjoys spending quality time with her family, charitable initiatives and catching up on Netflix movies.