Kofo Olokun-Olawoyin holds Second Class Upper-Grades from the prestigious University of Lagos and the Nigerian Law School, Abuja Campus, where she obtained a Law degree and Nigerian Bar qualification certificate. She holds two Masters' Degree in European Union Business and Taxation Law from the Université de Cergy-Pontoise (Cergy-Pontoise, France) and in International Commercial Law from the University of Dundee (Dundee, United Kingdom) where she made Distinction and Merit respectively.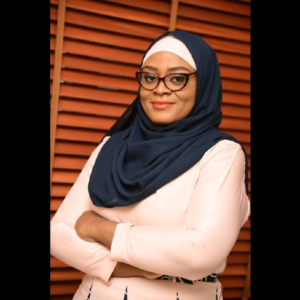 She is a fellow of the Institute of the Chartered Governance Institute, United Kingdom (formerly the Institute of Chartered Secretaries and Administrators (ICSA), a Fellow and a floor official of the Institute of Credit Administration Nigeria (ICA), a member of the Women in Energy (Global), a Mentor on various platforms including the African Women in Energy Development Initiative (AWEDI) etc. Kofo has well over a decade of active legal practice and experience which extends to cross-border financing transactions, Energy, Telecommunications, Corporate Finance, Banking and Finance, Project Finance, Public-Private Partnerships and Legal Advisory and Company Secretarial Services.
Kofo holds numerous certifications from foreign institutions in various areas including Energy, Project Finance, International financial markets etc.
Kofo has been included on the Experts Roster for Rapid Response (ExpRes) by the United Nations Development Program and was featured in the African Power & Energy Elites 2021 Edition, by ESI Africa, as a Leader in the Energy Sector in Africa.
She recently authored the fast-selling book titled ''The Nigerian Electricity Supply Industry- Post Privatisation Realities, Trends and Challenges'' a 640 paged professional and academic material, which provides remarkable details on all that need to be known about the Nigerian Electricity Supply Industry and covers various aspects of electricity including basic knowledge of engineering, policies; laws and regulations; financing, tax, business, negotiation and investment strategies et cetera.
This book has been adjudged one of a kind as a result of its detailed and extensive coverage of crucial issues within the Power Sector and has been adopted as a recommended text for postgraduate students at some Universities in Nigeria. She periodically contributes articles for publication on salient issues within the Power Sector in the Business Day Newspaper and was a key Contributor to the World Bank report on Benchmarking Public Private Partnership Procurements in 2015. 
Kofo is very passionate about the Power Sector and is committed to contributing her quota in ensuring reliable power supply in Africa, particularly, Nigeria.
Kofo was, up until March 2021, an Assistant General Manager with one of the biggest licensed distribution companies in Lagos Nigeria, Eko Electricity Distribution Plc (Eko DisCo) and led the Legal Advisory and Contracts Unit of the Legal Department. Prior to joining Eko DisCo in 2015, Kofo worked with two of Nigeria's top tier Commercial Law Firms of Banwo & Ighodalo and Paul Usoro & Co, both in Lagos Nigeria, where she was part of and led teams that successfully closed multimillion-dollar transactions in various fields. She has contributed immensely to the development of regulatory framework required for successful implementation of a viable Power Sector in Nigeria, continues to be instrumental to the drafting of complex agreements and proffering of crucial legal advice on very crucial industry regulations, rules, laws and issues generally which have had and continued to have profound positive impact within the Power Sector. 
She was instrumental to the draft of all major template Agreements used by her Company till date, which were novel at the point of privatisation without any locally available template and pioneered the drafts of major commercial agreements for the Company's major projects and schemes.
To inspire a new generation of women and young men to better appreciate the dynamics of the power sector and also drive the attainment of steady and uninterrupted power in Nigeria, Kofo has during the past years, started and participated in mentorship and knowledge sharing programs informally and through formal platforms such as the AWEDI, the United Nations Development Program (UNDP), the Nigerian Bar Association, Lagos Branch, The Young Lawyers Forum of the Nigerian Bar Association, Individuals and Student Groups across Universities, random knowledge-seekers on professional social media platforms like LinkedIn and through the Eko Disco mentorship program.
Kofo enjoys bonding with her family. reading, teaching and travelling.