SSA CARBON CREDIT DEVELOPMENT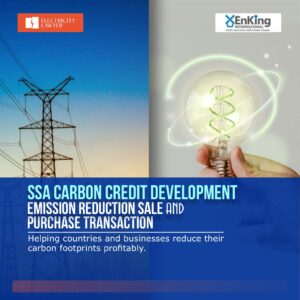 Carbon Pricing mechanisms aid in reducing Greenhouse Gas (GHG) emissions that negatively impact the environment. Carbon pricing puts an explicit price on GHG emissions through various mechanisms with the most notable mechanisms being Emissions Trading Systems/Schemes, Carbon Taxes and Carbon Offset mechanisms.
Given that the African region contributes minimally to climate change in terms of the low levels of per capita energy consumption, but more importantly the fact that several countries in the region possess a significant amount of renewable energy potential in their individual fuel mix dynamics, an opportunity exists for high emitters who wish to reduce emission levels to attain carbon neutrality to offset emissions in their respective jurisdiction(s) through project activities in SSA. The fee(s) paid for the 'avoided emissions' will be channelled into activities that keep GHG out of the atmosphere. The emissions reduction credits exist as tradeable assets. Project viability assessment is therefore key. National and Regional Governments, Corporates, Project Developers can take advantage of emission reduction sale and purchase transactions as it is a 'win-win' for all parties.